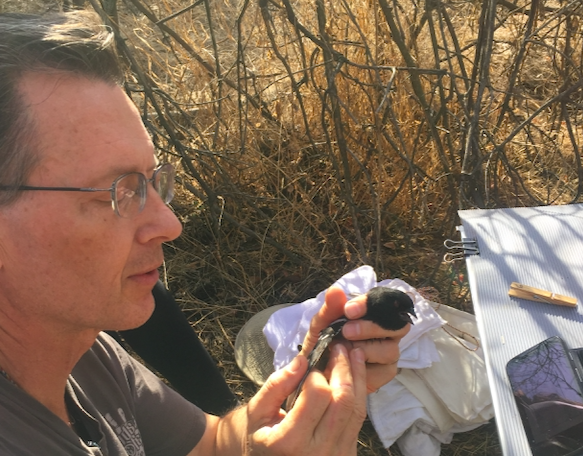 POSTPONED
Date and Time to be announced
Trip leaders: Mike Morrison and Lance Benner
Come join us for a morning of banding and birding in oak woodland and chaparral at Marshall Canyon Regional Park in La Verne with Mike Morrison. Mike has operated a banding station in this area for several years and will show us how to band birds. This will provide an opportunity to see a number of species at very close range. We will also walk some trails and explore a creek nearby. Limited to 10 people.
PHOTO: Mike Morrison examines the feathers of a Spotted Towhee at his banding station in La Verne.
Field Trip General Notes
This field trip is offered by reservation only. If you miss out on the initial places you will be added to a waitlist and will be emailed by trip leaders if a place opens up. If you are unable to attend a booked trip please email the trip leaders and allow them to make your space available to someone on the wait list.
See our full interim field trip guidelines here.
NOTE: Date and time details for this field trip are still being determined. Check back later to see if registration has opened.