Our native habitat garden at Washington Elementary is thriving. We've created a garden brochure, which you can download here. This will be a great tool for the school community. Prospective families as well as students and teachers will be able to learn about the features and plant communities present in our garden.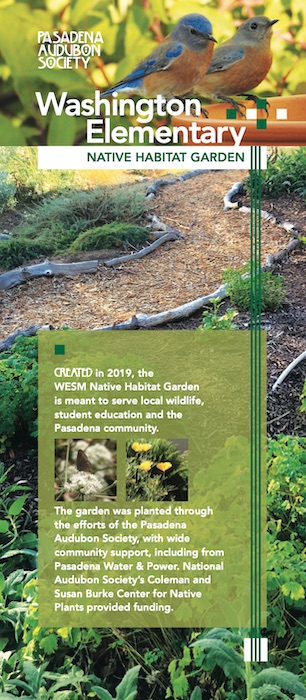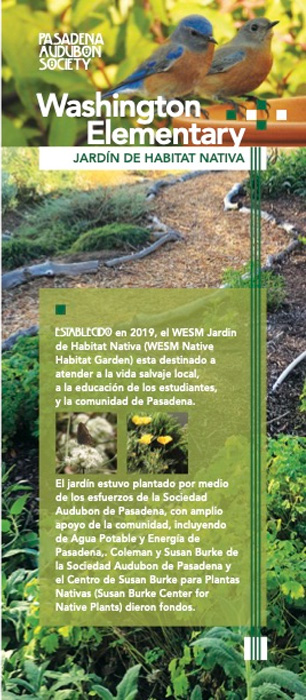 Volunteers are always welcome to join the gardening team. Email Lois Brunet for more information.


Birds are flocking to the Washington Elementary garden
A wide variety of birds have been taking advantage of the Washington Elementary Native Habitat Garden. We've already spotted more than 50 bird species there, and that number is sure to grow. You can see an up to the minute list of the garden's birds here.
December 2020 update
The Native Habitat Bird and Pollinator Garden at Washington Elementary is flourishing. It's one year old so we've seen a full cycle of growth, with many flowering plants now going to seed. The school has been silent since March because of the pandemic. We look forward to the return of the children who will find many wondrous things to explore in this garden.
Solar fountains were built and installed by Eagle Scout and birder, River Meunch, who has also been involved with gardening and mulching. The combination of abundant natural bird food and now trickling water is bringing in many species of birds. The species count currently stands at 26.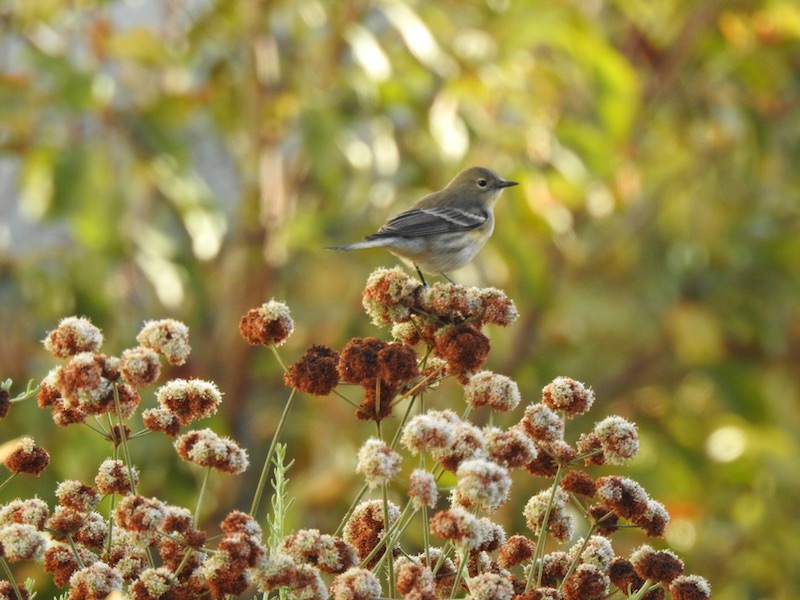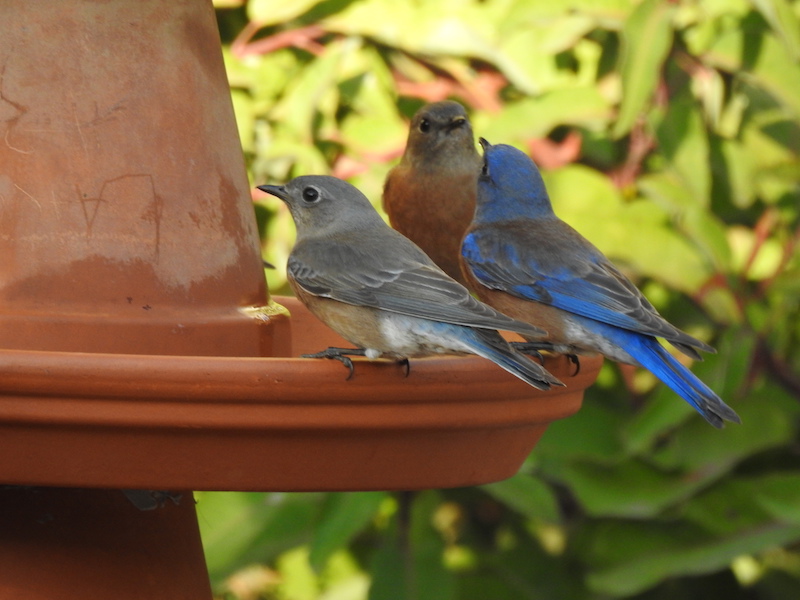 River put together this video with step by step instructions for creating a fountain like this in your own backyard.
If you are interested in gardening at Washington, please contact Lois Brunet: loisb.pas@gmail.com
Contribute your photos to the Garden website
Washington Elementary is closed to students this Fall because of the pandemic. In an effort to give children and teachers access to the many marvelous goings on in the native garden, California Naturalist, Paloma Avila has volunteered to create a website.
We need photos of local birds and pollinators on native plants. You will be credited.
| | |
| --- | --- |
| California Towhee | Blue Gramma Grass |
| Mourning Dove | Buckwheat |
| Lesser Goldfinch | Laurel Sumac |
| House Finch | Woodland Strawberry |
| Acorn Woodpecker | Coast Live Oak |
| Bushtit | Milkweed with aphids |
| Northern Mockingbird | Roger's Red California Wild Grape |
| California Scrub Jay | Chapparal Currant |
| Black Phoebe | Perching on a native plant |
 
We're also highlighting the pollinators, butterflies in particular. Photos of these with their hosts, or not, would be great:
| | |
| --- | --- |
| Common Buckeye | Showy Penstemon, Bush Monkey Flower |
| Monarch Butterfly | Narrow Leaf Milkweed |
| Western Pygmy Blue | Quailbush |
| White Checkered-Skipper | Mallow |
| Funereal Duskywings | Baby Blue Eyes |
| Painted Lady | Menzi's Fiddleneck, Bush Sunflower |
| Cabbage White |   |
| Gray Hairstreak | Coffeeberry, CA Buckwheat |
| Gulf Fritillary |   |
| Fiery Skipper | Creeping Love Grass |
| Umber Skipper | grasses and sedges |
 

Upload instructions:
Create a folder on your computer with the photos you want to upload.
Add the species name to the file name of each photo.
Name the folder with your name.
Select the "Choose Folders" option and upload
Thank you for helping us build this important learning tool! We'll let you know when it goes live!!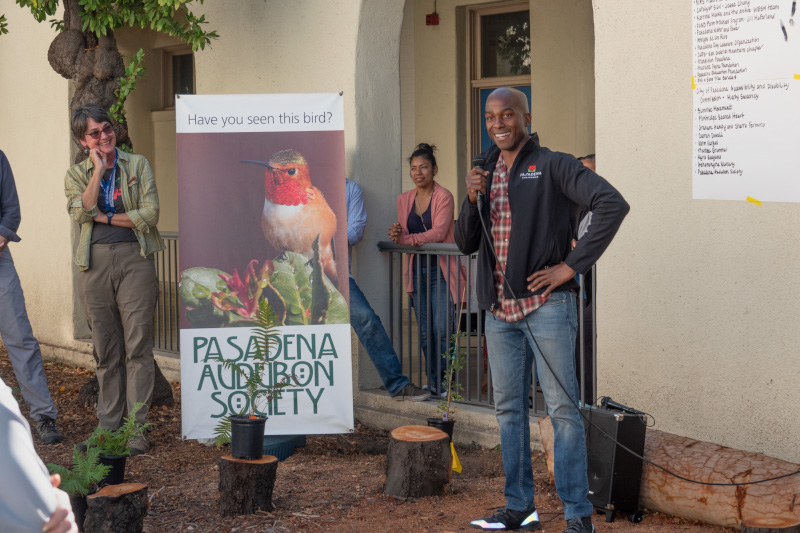 Community comes together for grand opening of new bird-friendly school garden
The November 16 Planting Day celebration at the new native plant and pollinator garden at Washington Elementary STEM Magnet (WSEM) was a big success due to the mighty efforts of volunteers, teachers, school children and their parents. Over 80 members of the community joined in for a morning of planting, learning about So. Cal. plants and the power of teaming up, nature-themed activities, and a congratulatory meal. Volunteers at the event included Principal Karrone Meeks, STEM Specialist Jodie West and Pasadena Vice Mayor Tyron Hampton, who also spoke to the crowd gathered for the occasion. The celebration continued through the week, providing 225 students additional opportunities to learn about and add plants to their new learning space.
The garden at WESM in Pasadena features California native plants that attract birds and pollinators, an outdoor classroom, and a rainwater garden with bioswales, which slow the flow of rain through the space and allow for it to drain naturally into the earth. The garden fills a large courtyard at the school and now contains favorites such as Hummingbird Sage, lupine, California Poppy and milkweed, as well as chaparral species such as Laurel Sumac and Coffeeberry.
The garden will provide students with outdoor learning opportunities and provide a habitat for native species of birds, bees, butterflies.
"We've been trying to bring an outdoor schoolyard program to fruition for more than eight years and it's wonderful to see it becoming a reality, with even more opportunities for kids to learn," said Jodie West.
Pasadena Audubon took on creating a garden for WESM as an extension of their innovative Bird Science Program, with the goal of getting students excited about the environment, conservation, and bird watching. A native plant and pollinator garden brings to life the lessons of the Bird Science Program for the students at WESM with features intended to recreate local ecosystems. The WESM garden effort was organized by PAS Program Director Lois Brunet, who used a Burke Grant from National Audubon to lay the groundwork. The garden was designed by Jesse Chang of Catalyst SGV who volunteered his time. Pasadena Water and Power also sponsored the project, providing signage and drip irrigation. The project brought together 80 volunteers from seven different organizations who contributed more than 600 hours of effort.
There is not room in this article to list all of the people who made this project happen, but to everyone, we offer our sincere gratitude and congratulations.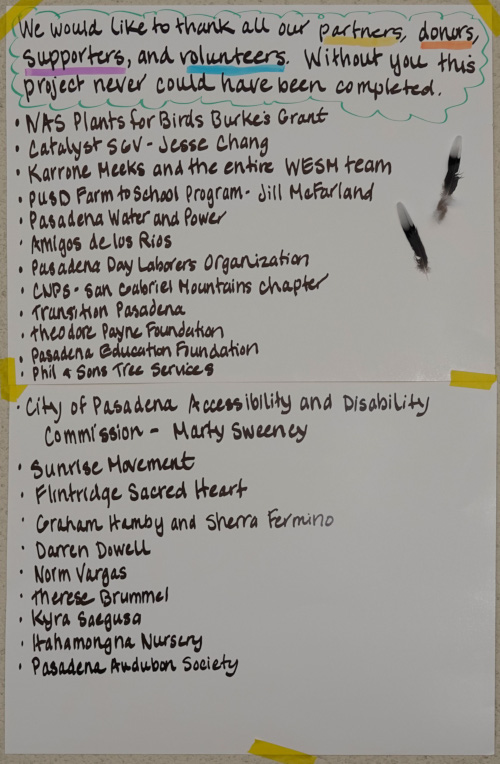 The WESM garden is off to a great start, helped by the winter rains that began in the week following Planting Day. Still, it could use some tender loving care in the months ahead as the new plants get established. [NOTE: Community Gardening Days are cancelled due to COVID. We will let you know when we can start again.]
See also this article in Pasadena Now about the garden.