Upcoming Events
77th Annual PAS Christmas Bird Count Orientation and Dinner
Orientation: December 13th, 7:30 PM to 8:30 PM via Zoom
CBC Dinner: December 16th, 6:00 PM to 8:00 PM at Eaton Canyon Nature Center
Jon Fisher
It's time for Pasadena Audubon's annual Christmas Bird Count! Join us by Zoom on Wednesday, December 13th at 7:30 PM for the orientation meeting, as Jon Fisher gives us some background on this oldest of citizen science events, and coordinates coverage of this year's count circle. He'll share information on the history of the count and how you can participate. New birders are always welcome! (Don't worry, you'll be paired with experienced counters when possible).
Then, on Saturday, December 16th, head out on the Count! See how many birds you can find in your area, and be part of the biggest citizen science project in history!
Finally, round out the day by joining your fellow counters for our traditional Bird Count Dinner, December 16th from 6 to 8 pm at Eaton Canyon. Come for the victuals, stay for the drama! In accordance with custom, following the Christmas Bird Count dinner we'll have the spellbinding official species tally that is guaranteed to keep you in...suspense! We don't know who's catering yet, but like the tally, the food is usually impressive.
Tickets for the Christmas Bird Count dinner on Dec. 16th now available!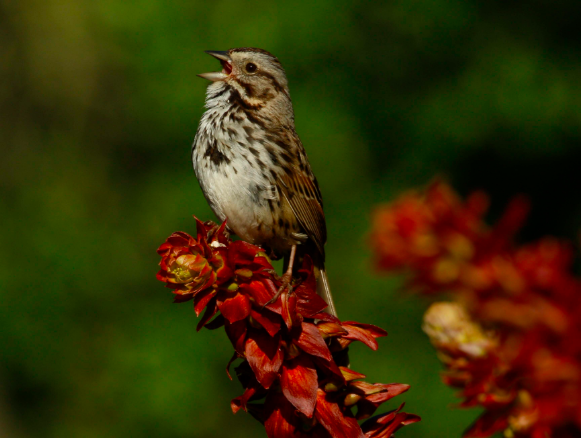 Song Sparrow (Melospiza melodia)