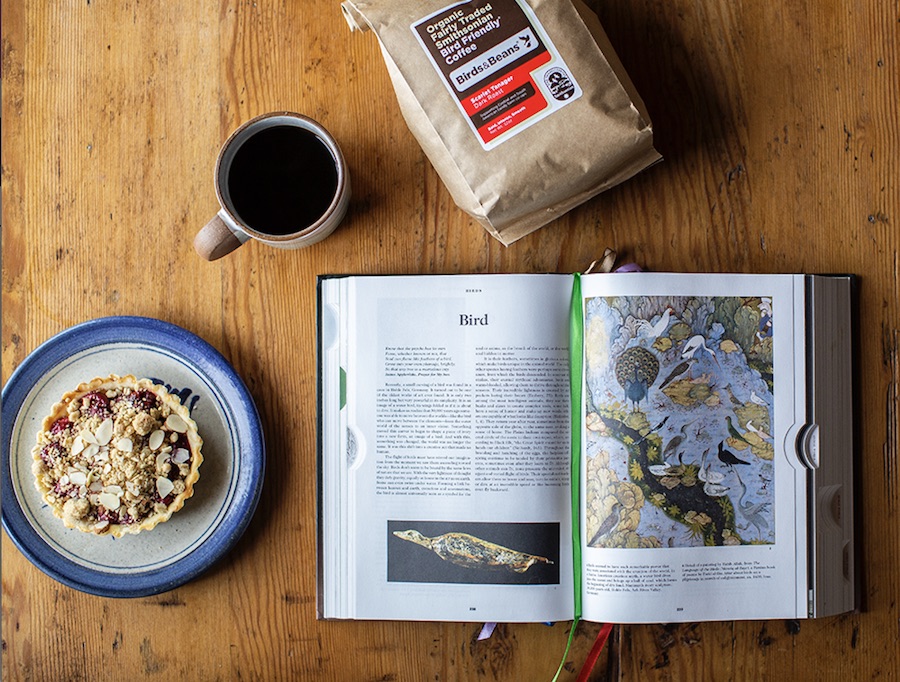 Do you love coffee almost as much as you love birds? Then you won't want to miss out on the opportunity to join the PAS Coffee Club. Enjoy your morning brew knowing that you are helping protect important migratory bird habitat.
Birds & Beans® is the only US coffee brand selling solely shade grown, organic, Fair Trade, Smithsonian 'Bird Friendly®' certified beans. Great for birds, family farmers and their workers and the Earth we all share. Great tasting coffee too!
Coffee plantations that meet the Smithsonian Institute's rigorous ecological qualifications provide crucial habitat for birds wintering in Central and South America. A recent study completed through Cornell used eBird data to show that for the 21 species studied, 60% of their time was spent on their wintering grounds in Central America. One scientist involved in the study said "Our findings indicate that land-use change on their wintering grounds in Central America may be the most pronounced threat for these birds over the next few decades."
Purchasing shade grown coffee is an easy way to promote land conservation strategies that are sustainable because they support local communities as well as wildlife. And the coffee is delicious! Smithsonian certified coffee can be difficult to find in stores, so a Coffee Club through Birds and Beans provides Pasadena Audubon members with a simple and cost effective way to access bird-friendly coffee. Other standards for coffee certification, including the Rainforest Alliance seal, have recently relaxed their standards. The Smithsonian Institute seal is still the gold standard for bird friendly coffee.
Birds & Beans Coffee roast descriptions
All roasts are single origin and Triple Certified - 12oz, 2lb and 5lb/bulk bags, 2.2oz frac packs in cases of 50
Scarlet Tanager french roast – Our most popular roast is dark, bold and smooth. Scarlet Tanager has a smooth creamy mouth feel with the savory sweetness of chocolate. Shade grown Smithsonian certified Bird Friendly® coffee, which is also USDA Organic and Fair-Trade certified. From the family farms of the UCA San Juan del Rio Coco. These farms in the Northern Nicaraguan highlands are the hub of a self-sustaining local rural economy and a critical habitat for migratory and indigenous birds.
Chestnut-Sided Warbler dark medium roast – Coffee from farmers co-op UCA San Juan del Río Coco in the Northern Nicaraguan Highlands. Earthy, roasted almond, dark chocolate. Medium-full body. Shade grown Smithsonian certified Bird Friendly® coffee, which is also USDA Organic and Fair-Trade certified.
Wood Thrush medium roast – The mild sweet flavor, light body and fragrant floral aroma with a hint of creamy milk chocolate makes this delightful breakfast roast coffee an especially pleasant way to start your day. Supporting Nicaraguan family farmers of the Sierras de Managua/Carazo Plateau and the co-op farmers of La Florida high in the Peruvian Andes, a key watershed for the Amazon River basin and winter home to wonderful migratory birds .Certified Smithsonian Bird Friendly/Fair-Trade/USDA Organic.
Baltimore Oriole French roast decaf - Our customers tell us that our decaf is the best they have ever drunk. Dark, bold and smooth with pleasing mouth feel and after taste. Shade grown Smithsonian certified Bird Friendly® coffee, which is also USDA Organic and Fair-Trade certified – water process decaffeination.
American Redstart light roast – From farmers Asociación Civil Guaya'b in the Huehuetenango region of Guatemala, smooth and full-bodied with heavy notes of cocoa and walnuts. The acidity is mellow and reminiscent of red apples. Shade grown Smithsonian certified Bird Friendly® coffee, which is also USDA Organic and Fair-Trade certified.
Kingbird espresso – A wonderful blend of Nicaraguan and Guatemalan coffees - balanced, sweet, somewhat bright with good body, has dominant Mandarin orange on the aroma, with nutty sweet toffee, clean and smooth in the cup. Triple certified, shade grown Smithsonian Bird Friendly/Fair-Trade/USDA Organic.
---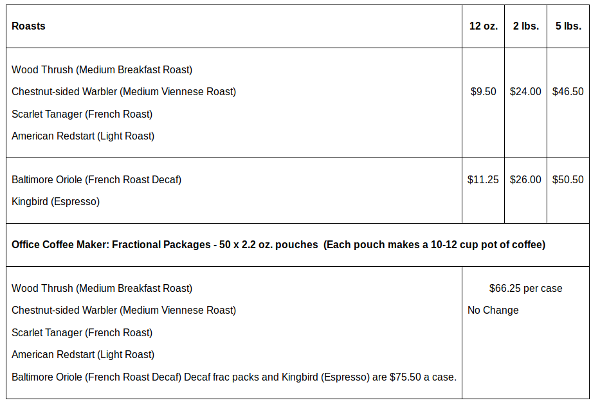 Ordering is easy! Just follow these three easy steps:
Email your order (options listed above) to coffeeclub@pasadenaaudubon.org by the last day of the month.




Pay for your coffee by credit card using this form...


or by bringing a check made out to Pasadena Audubon when you pick up your coffee.

Pick up your coffee at the general meeting on the third Wednesday of the next month at Eaton Canyon Nature Center or arrange with PAS Coffee Club by email.
---
More information on the links between birds and coffee:
A message from Bill Wilson, founder of Birds & Beans Coffee
Thank you for your ongoing support of our Birds & Beans business and mission. As one of over 125 wholesale customers [coffee clubs] you play an important role in saving family farms and critical bird habitat in Latin America. We have done well - with your help - since 2008, when Scott Weidensaul, Bill McGonigle, David Pritchard and I conceived launching the Birds & Beans coffee brand in the US to resurrect the languishing Bird Friendly shade grown coffee certification.
In 2013 Birds & Beans coffee began working with the farmers and landowners of the Sierras de Managua and Carazo Plateau in Nicaragua to 'get certified' to help preserve up to 50,000 acres of true shade coffee and adjacent forest lots in a truly sustainable state. Good for birds, farm families and workers, local rural economies and the Earth we all share. Great tasting coffee too! The group of over 50 shade coffee farms in the region are basically forest. These lands have been in traditional shade coffee for over 165 years creating an area that is a bird conservation, watershed, soil bank, carbon sink and rural employment zone of major importance. Threats to the area are deforestation to plant full-sun monocultures of export crops, extractive industry and creeping population expansion. If traditional coffee farming does not survive here these family farms - good habitat rich with bio-diversity and a key source of rural economic stability - will likely disappear.
Imagine preserving 50,000 acres of prime tropical habitat simply by drinking coffee?
We have already helped four of the farms in the Sierras convert to BF certification by subsidizing certification costs and buying their coffee at a premium price.
We hope to help all the farm families in this region become 'Bird Friendly' over the next five year while still maintaining our coffee buying from over 150 'Bird Friendly' family farms in Northern Nicaragua, Peru, Guatemala and Honduras.
More on Smithsonian Migratory Bird Center certified coffee:
Bird-Friendly Coffee Supports Critical Winter Habitat
How to make sure shade-grown coffee is bird-friendly
The (de)evolution of Rainforest Alliance shade criteria
Dr. Robert Rice on birds and coffee: