The Pasadena Audubon Society wouldn't exist without the time and effort of its volunteers. Each year PAS members donate hundreds of hours of their time to make Pasadena Audubon the vibrant organization it is.
We're grateful to each and every volunteer in our organization. But there are several whose dedication stand out. Without further ado, here are the...
2021 Pasadena Audubon Heroes
Tim Brick - Conservation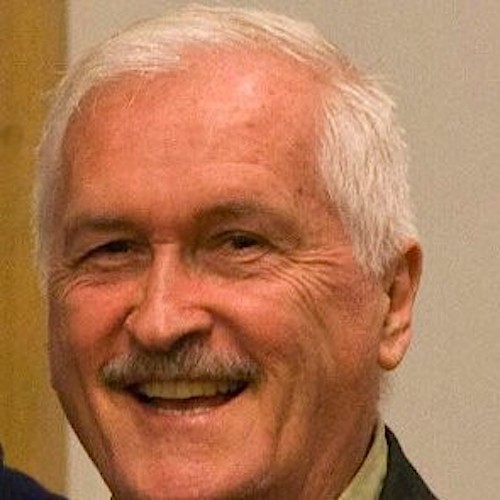 We chose Tim Brick to be our Conservation Hero for 2021 because of his decades of fiercely and persistently defending the Arroyo Seco. The mission of the Arroyo Seco Foundation, of which Tim is the Managing Director, is to protect and restore the Arroyo Seco, and we cannot think of anyone who is a more stalwart champion of the Arroyo Seco than Tim. Tim works diligently to protect natural and native habitat, which means he protects birds.
Tim has also motivated the Pasadena Audubon Society to fight the good fight to protect the Arroyo Seco, and fought with us should to shoulder to keep athletic fields out of Hahamongna Watershed Park and to improve the misguided Big Dig. We are grateful to Tim for inspiring us to become vigorous defenders of birds and bird habitat, and we are honored to partner with the Arroyo Seco Foundation. Thank you, Tim. We look forward to restoring the Arroyo Seco with you.
Laura Solomon, PAS President
Vicki Salmon - Education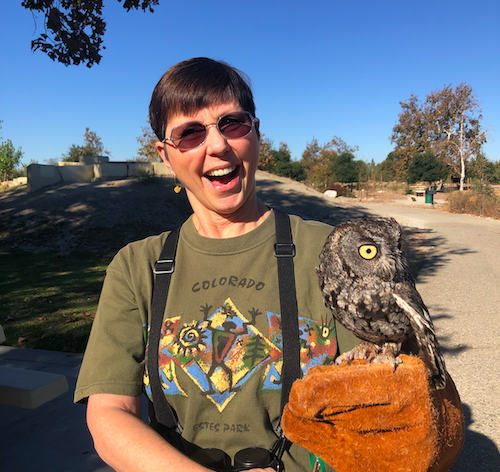 When we did our first docent training series in 2019 for the Bird Science Program, I was really happy to see that many of the new volunteers had experience in elementary school education. The program is half in the classroom, half at Peck Park, so strong classroom skills is a big plus.
Vicki was one of these recently retired teachers, with decades of classroom experience as a music teacher. How lucky were we?? In addition, Vicki has a remarkably sunny personality, as anyone who knows her will say. She's always got a warm smile and a positive view on things. She was a key volunteer in that year and I personally really enjoyed working with her.
After the pandemic shut things down, and with Taylor moving to full time paid work, our core team (Kathy Degner, Laura Solomon and I) needed a new addition, we asked our team of docents and Vicki stepped right up!
First order of business has been reworking the docent training class so that non-birders can learn enough about the birds themselves to join as confident docents. In our first meeting Vicki offered to write the curriculum, using her knowledge of the program and her expert understanding of how we learn best – mostly by doing. We're powering ahead and I am so grateful to have Vicki at the table. Our docent training class is now going to be 5 sessions, 3 hours each and thanks to Vicki, it's going to be amazing. So grateful for her enthusiasm and generosity and looking forward to a great year with Vicki in the leadership team.
Thank you Vicki!
Lois Brunet, PAS Program Director
Marsha Fowler - Birding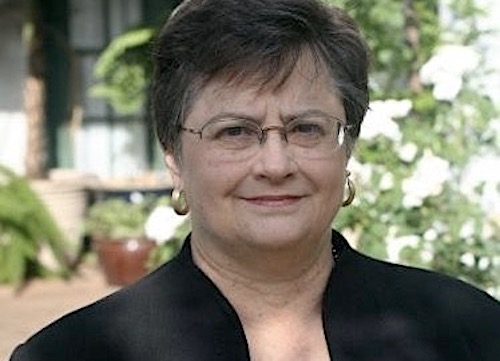 Our inaugural Birding Hero Award goes to someone who took the giant sour lemon of the pandemic and made a sweet batch of lemonade by birding her own yard every single day of 2020. For her dedication she was featured in the February Wrentit, and in that interview she expressed an intention to continue the streak in 2021. As of halfway through June she has made good on that pledge. This is a real accomplishment not just for having honed her bird ID and photography skills, but for the valuable contribution it makes to citizen science. She's recorded all these observations in eBird, giving the Cornell Lab several hundred snapshots that together provide an extremely detailed portrait of a suburban residence in the foothills of the San Gabriel Mountains. And a lively little patch it is, visited by mourning doves, finches, juncos, towhees, chickadees, warblers, crows, the occasional Cooper's Hawk, and the Red-crowned Parrots we know Marsha is inordinately fond of. Congratulations, Martha, and keep up the good work!
Carl Matthies, Wrentit editor
Graham Hamby - Break-out Volunteer Extraordinaire!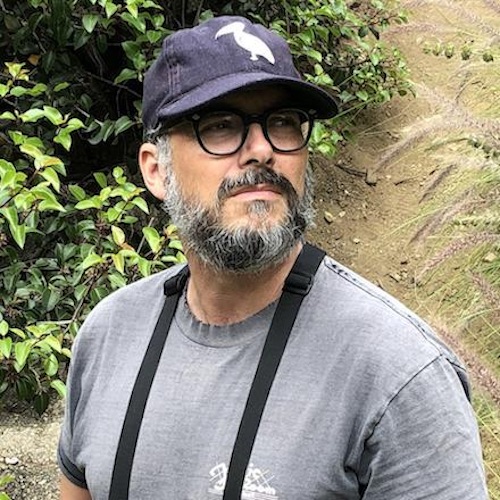 Back when we were still at Eaton Canyon, and Doug Farr was Hospitality Chair, I noticed a charming couple helping out at all the meetings, setting out cookies, making coffee and just being helpful. So I went and said hello. Graham Hamby and Sherra Fermino were new to PAS but they'd jumped right in. In getting to know them, I learned that Graham had lots of ideas for making Pasadena Audubon more welcoming and more hip! And he was willing to help!
So, when we were kicking off the Bird Science Program, and needed a logo and bird cards with Western Birds in them, I asked him to take on both and he did. Then one day I went to pick up a proof at their house and Graham showed me an amazing 5 foot segment of a telephone pole which had been transformed into an Acorn Woodpecker granary, which they had in their yard! We were doing the garden at the time, and I said, oh can we have that for the opening day – it would be so cool – such a symbol for birds in the urban environment. They donated and delivered it!
When Lois Fulmer stepped off the board last summer, Membership seemed like the perfect fit for Graham and he accepted. He's done a lot of work there, including creating the PAS enamel pin with our volunteer designer Patrick Walling. He's involved with multiple projects including the book project, the nominations committee and strategic planning. I'm sure I'm forgetting something. It's a such a pleasure to work with such a dedicated volunteer and his charming partner, Sherra.
Thank you Graham for all you do!!! We couldn't be luckier!
Lois Brunet, PAS Program Director
Elaine MacPherson - Longtime Volunteer Extraordinaire!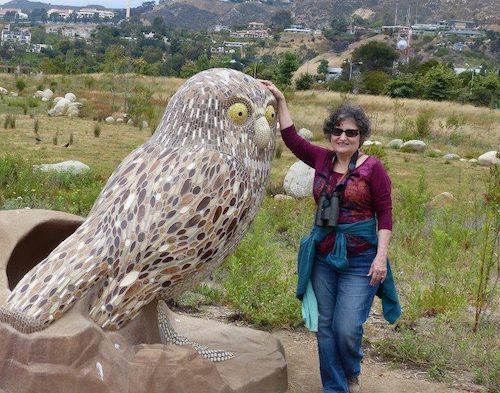 This award is reserved for extraordinary volunteers who have given their time and talents to the Pasadena Audubon Society for years. In fact, we may not be able to award it every year. But for our first ever Long-time Volunteer Award, the choice was obvious. Elaine MacPherson has dedicated years of service to Pasadena Audubon as board secretary, a field trip leader, including leading the monthly trip at the Huntington Library for almost ten years, and as the Voice of Pasadena Audubon for at least 25 years. This means she was faithfully answering phone calls from our members as well as the general public, and these could be challenging. She also helped shepherd the chapter through a difficult time many years ago. For her tireless dedication and service, we are grateful. Thank you, Elaine, for being so supportive, cheerful, and dedicated!
Laura Solomon, PAS President
NOTE: Recipients of previous PAS awards and honors can be found here.